Engaging Design: Utilising the principles of User Experience (UX) to create meaningful and contextually relevant online learning.
Thursday, 15 September 2022 at 3pm (CAT)
Engaging Design: Utilising the principles of User Experience (UX) to create meaningful and contaxtually relevant online learning. (Dr M Landman)
Thursday, 13 October 2022 at 3pm (CAT)
Improving Student Engagement and Success in South African Higher Education: Lessons from the pandemic (Prof F Strydom & Dr S Loots)
Invitation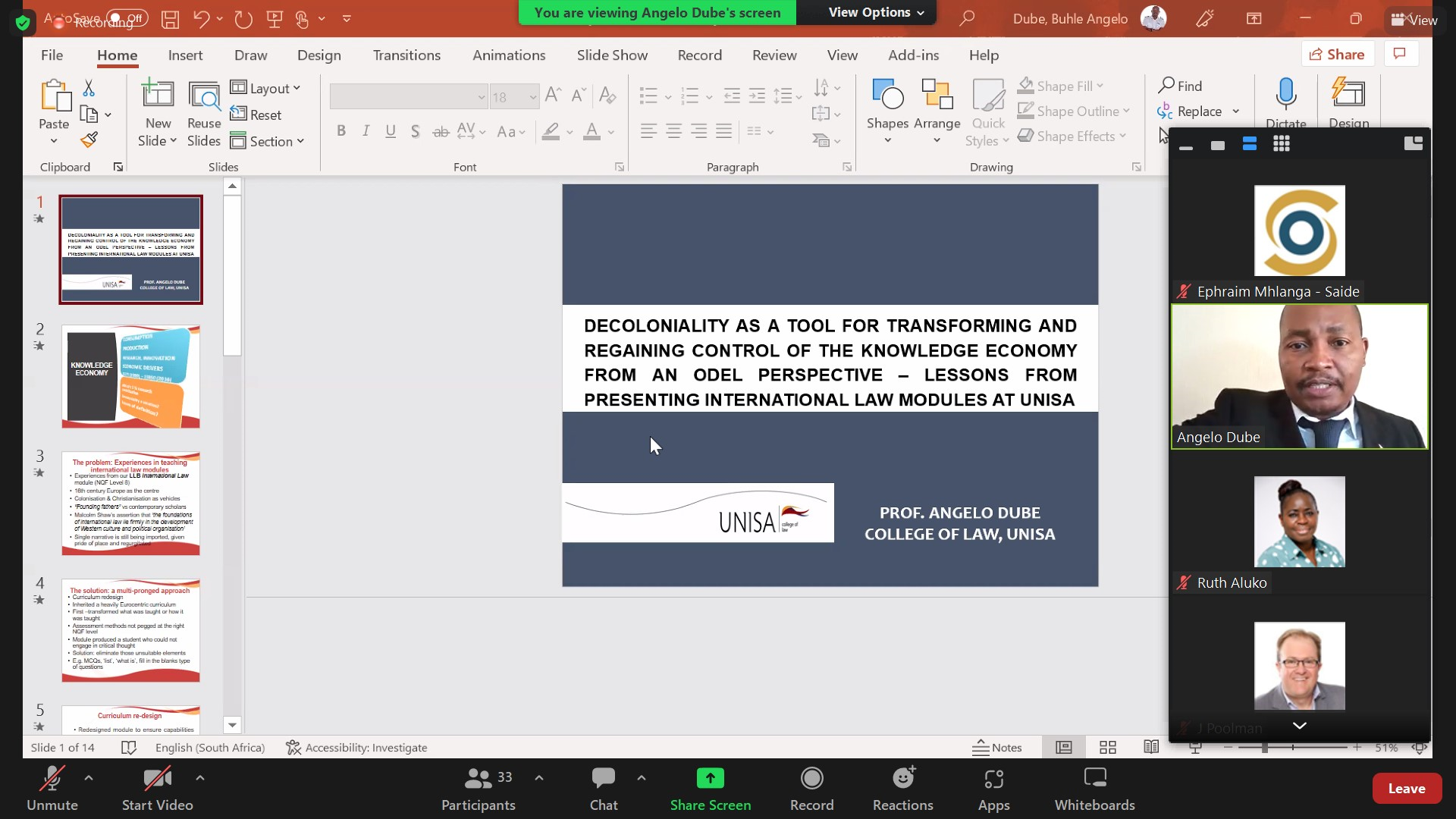 Once again, the National Association of Distance Education and Open Learning in South (Nadeosa) ran a successful online conference 10 –12 May 2022. Running under the theme: Open Distance Learning on the Pathway to 2030, this conference was co-hosted by three higher education providers, namely Business Management Training College, STADIO, and MANCOSA. These institutions were supported by technical staff from University of the Free State.
The 2022 conference was graced by keynote addresses from Professors Angelo Dube from Unisa and Divya Singh from STADIO. Prof Dube presented on decoloniality as a tool for transforming and regaining control of the knowledge economy and Prof Singh on internationalisation of higher education and joint degrees. The conference attracted 53 registrations and 31 presentations that all centred on salient aspects on distance education. You can access the presentations below:
1. Karen Ferreira-Meyers. Lessons form a pandemic: Continued Staff Development.
2. Bernadette Geduld. Situational challenges of open distance students: A case for the development of self-directed learning skills.
3. Mirischian Immelman. Instructional Design Project Success: Waterfall or (perhaps and) Agile?
4. Prof ZMM Jojo. Creating Sustainable Supervision of Master's and Doctoral Students in an ODeL Context in the Field of Mathematics Education. UNISA
5. Greig Krull. Promoting Student Engagement in Online Courses. Wits University 10 May 2022
6.le Roux, S..G . Access vs retention and academic performance: a gap between dream and reality? Department of Early Childhood Education College of Education, Unisa
7. Hlamulo (Wiseman) Mbhiza. Teaching and Assessment Muddle: A Lecturer's and Students' Experiences in an Open Distance e-Learning Environment.
8. Ephraim, Mhlanga. Nadeosa Annual Discussion Session 12 May 2022
9. Nelia Oosthuysen. Is the ODL voice heard when considering ICT usage for learning and teaching post-Covid? Reviewing the research in developing countries
10. Adele Bellingan, Amy Long and Thokozani Moyo. Scaffolding: iQ Academy supports students in crossing the bridge to higher education and distance learning.
11. Sheila Tshegofatso Sefhedi. Translanguaging and Codeswitching in the context of ODL Junior Secondary School multilingual classrooms.
12. Leila Shirley. The determinants of throughput in adult educational programmes and ODL in South Africa?
13. Divya Singh. "Internationalisation at home" and joint degrees' opportunities, questions, and challenges.
14. Stott Angela Video-based course instructions as a tool to improve engagement in an online teacher professional development short course
15. Ooko M. O. Aluko F. R. and Cassim Lambart Z. Assessing an integrated technological support response to a cohort of distance education students in a developing context. Nadeosa Conference 2022. Unit for Distance Education, University of Pretoria.
16. Carisma Nel & Elma Marais. Mixed reality simulated teaching: An innovation in ODL environments. Faculty of Education, North West University
17. Mojaesi Violet Phejane and Lorrance Siphiwe Nzelwane. Access for success: Narratives of students with disabilities at the University of the Free State.
18. Jennifer van der Merwe. (12 May 2022). The effectiveness of avalue-added social curriculum to empower working mothers studying at an ODL institution. iQ Academy.
19. Karen Ferretra Meyers. Student experience of the COTE Programme. Institute of Distance Education, University of ESwatini.